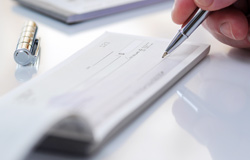 CHARLOTTESVILLE, July 8, 2019: The Virginia Law Foundation is proud to announce its 2019 grant recipients. The VLF grants program funds initiatives that further the Foundation's mission: to facilitate access to justice, promote an appreciation and understanding of the Rule of Law, and to instill these values through education. The full list of 2019 grant recipients is as follows.
"Best Practices" Pro Bono Program, Charlottesville-Albemarle Bar Association – $25,000
Capital Defense Workshop, Virginia Bar Association – $30,000
Hill Tucker Pre-Law Institute, Virginia State Bar – $15,000
Immigration Legal Services Program, Northern Virginia Family Service – $25,000
Jazz4Justice – $3,000
Justice In The Classroom Program, John Marshall Foundation – $25,000
Medical-Legal Partnership—Richmond, Medical College of Virginia Foundation – $25,000
Public Service Internship Program, The Oliver White Hill Foundation – $46,179
Rule of Law Day, Virginia Holocaust Museum – $6,700
Rule of Law Project, Center For Teaching The Rule of Law – $25,000
Rural Immigration Legal Services Program, Just Neighbors – $40,000
Southwest Virginia Training Initiative, Southwest Virginia Legal Aid Society – $15,000
Statewide Legal Aid Conference, Virginia Poverty Law Center – $25,000
Victim Services Project, Legal Aid Society of Roanoke Valley – $30,000
Virginia Beach Justice Initiative – $42,000
Virginia Justice Program, Capital Area Immigrants' Rights Coalition – $40,000
Virginia Judges and Lawyers Assistance Program – $20,000
Virginia Sexual & Domestic Violence Action Alliance – $25,000
VLF Public Service Internships – $50,000
More information on these grants can be found at https://www.virginialawfoundation.org/grants/grants-in-2019/.