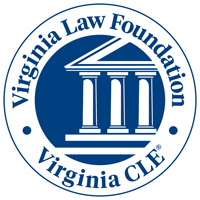 Supported by the Virginia Law Foundation since 1990, public service internships for first- and second-year law students help bring to light the importance of public interest and pro bono work. The work they complete varies widely, depending on the missions and caseloads of their host organizations. Some students gain experience working on individual client matters and others work on larger projects in an organization's service area.
Each of Virginia's eight American Bar Association-accredited law schools receives funding for public service internships during the summer. Three Washington and Lee University School of Law students shared their experiences from summer 2019 internships.
Lizzy Barbaree completed her VLF-sponsored internship at the Legal Aid Justice Center's JustChildren Program in Charlottesville. Her duties included researching parental and student rights, meeting with school officials, parents, and lawyers to discuss a child's special education, and planning workshops for minors who were incarcerated as serious offenders at Bon Air Juvenile Correction Facility.
"I had known before this summer that I was interested in working in some way to better the lives of children, and this internship cemented the commitment, and really helped me to understand more concretely what are the best areas in which I can achieve that goal," said Barbaree. "I am incredibly grateful I was given the opportunity to work with JustChildren for the summer, and know that it would not have been possible without the VLF's generous support."
Christine Ward interned at the disAbility Law Center of Virginia (dLCV) in Richmond. Ward's internship centered on the unique body of precedent for Protection and Advocacy Systems regarding justiciability, access authority, and autonomy in bringing suits on their own behalf.
"My favorite part of this internship was applying these abstract legal issues and precedent to real situations. In doing so, I gained a new perspective on the effect that lawyers and advocates have on individual lives," said Ward. "No matter what I end up doing in my legal career, I know that I will incorporate some form of public service into my professional work."
Brandon Cornejo's internship was at the Roanoke City Public Defender's Office. Cornejo's primary task was assisting with self-defense and manslaughter research for a murder trial. Additionally, he worked on reviewing police reports, client statements, and police body camera and interrogation footage for multiple cases.
"As a result of my internship I now plan on continuing into the criminal law field and would like to work as a public defender or prosecutor in the future. After my internship I realized how challenging and rewarding working on criminal cases can be," said Cornejo. "Additionally, I plan on returning to the Roanoke Public Defender's Office for another internship next summer. To help facilitate this I have joined a public interest group at my school and continue to take courses focusing on criminal law."