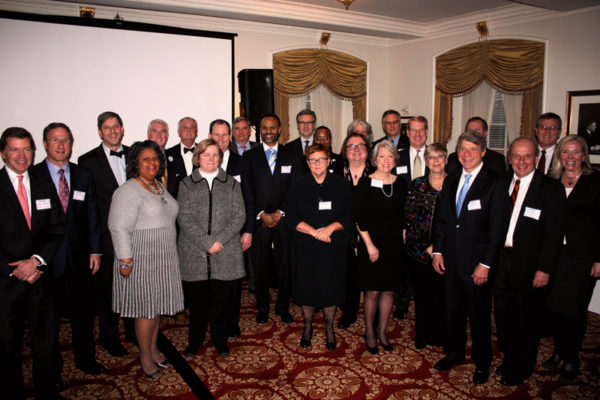 WILLIAMSBURG, VA (January 19, 2017). At the Virginia Law Foundation's Annual Dinner held in conjunction with the Virginia Bar Association's Annual Meeting, President Lucia Anna "Pia" Trigiani and Fellows Chair Honorable Manuel A. Capsalis inducted the 2017 Class of Fellows.
The new Class of Fellows joins a group of nearly 500 of the best and brightest legal practitioners in Virginia committed to the highest ideals of the law and to the concept of citizen lawyer.
Nominated confidentially by their peers, the Fellows of the Virginia Law Foundation are recognized as leaders in the profession, not just in their practices but in their communities.
The members of the Fellows Class of 2017 are:
David Grant Altizer (Tazewell)
Barbara S. Anderson (Alexandria)
Mary Bauer (Charlottesville)
Gregory R. Bishop (Richmond)
Honorable Sean T. Connaughton (Alexandria)
Patrick C. Devine, Jr. (Norfolk)
David John Gogal (Falls Church)
James Patrick Guy, II (Richmond)
John Owen Gwathmey (Richmond)
Jonathan P. Harmon (Richmond)
Helivi L. Holland (Suffolk)
Harry M. Johnson, III (Richmond)
Honorable Stanley P. Klein (Fairfax)
Thomas A. Lisk (Richmond)
Thomas H. Miller (Roanoke)
Sharon D. Nelson (Fairfax)
JoAnne L. Nolte (Richmond)
Honorable Nancy G. Parr (Chesapeake)
Bernadette Speller Peele (Stafford)
Lewis F. Powell, III (Richmond)
Robert F. Redmond, Jr. (Richmond)
Honorable Jane Marum Roush (Arlington)
Daniel M. Siegel (Richmond)
Honorable Shannon L. Taylor (Richmond)