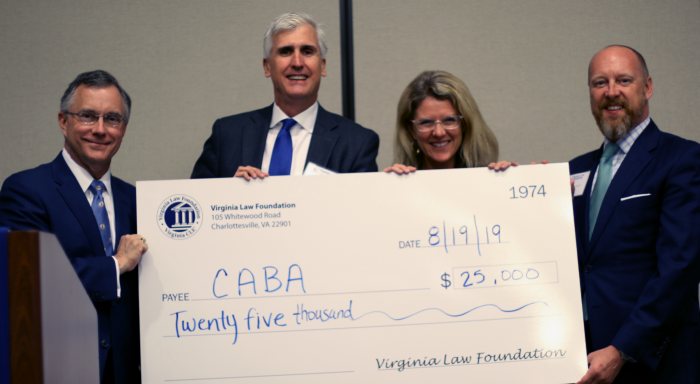 By Sharon D. Nelson
The Virginia Law Foundation would like to thank Sharon D. Nelson for this article, which was published 9/3/19 in Virginia Lawyers Weekly.
Sharon D. Nelson (Fellows Class of 2017) is a former Virginia State Bar president and is the president of Sensei Enterprises Inc., a legal technology, cybersecurity and digital forensics firm based in Fairfax. 
The Virginia Law Foundation presented grants totaling more than a half-million dollars at its 2019 Grant Recipient Luncheon in Richmond Aug. 19.
The VLF,  a philanthropic charity established in 1974 as an independent 501 (c)(3) organization,  has provided more than $26 million in grants over the last 30 years to support projects throughout the commonwealth. VLF President Andy Morse presided over the luncheon, which included the presentation of $538,000 in grants. These grants supported the VLF mission, which is to promote, through philanthropy, the Rule of Law, access to justice and law-related education. The recipients and their programs were:
"Best Practices" Pro Bono Program, Charlottesville-Albemarle Bar Association – $25,000
The Charlottesville-Albemarle Bar Association is implementing a "Best Practices" Pro Bono Program to advance the pro bono efforts of its members. VLF funding will enable CABA to research, test, and ultimately disseminate best practices for attorney recruitment, design of intake/vetting systems and dissemination and monitoring of pro bono cases.
Capital Defense Workshop, Virginia Bar Association – $30,000
Administered by the Virginia Bar Association, the Capital Defense Workshop is the only educational program that covers training requirements for Virginia lawyers representing defendants charged with capital murder. Each year, up to 250 lawyers receive the training to help them meet standards set by the Supreme Court of Virginia and the Virginia Indigent Defense Commission for the defense of capital cases in Virginia.
Hill Tucker Pre-Law Institute, Virginia State Bar – $15,000
Named for legendary civil rights attorneys Oliver Hill and Samuel Tucker, the Hill Tucker Pre-Law Institute is presented jointly by the Virginia State Bar's Diversity Conference and the Young Lawyers Conference. It seeks to increase diversity in the legal profession by reaching future lawyers at an early age. For one week each June, high school students from across Virginia are introduced to the legal profession while living on a college campus.
Immigration Legal Services Program, Northern Virginia Family Service – $25,000
ILS provides multi-lingual, family-based, and humanitarian immigration legal assistance to refugees, survivors of domestic violence and sexual assault and other vulnerable immigration populations in Northern Virginia.
Jazz4Justice – $3,000
Jazz4Justice™ partners local bar associations with university or community college music programs to raise funds for legal aid services, pro bono law programs and music scholarships.
Justice in the Classroom Program, John Marshall Foundation – $25,000
The John Marshall Foundation's Justice in the Classroom Program brings federal and state judges into public school classrooms for presentations and discussions with students about the constitutional foundation of our nation, our three co-equal branches of government, the Rule of Law and the role of the judiciary in preserving the rights and liberties of all citizens.
Medical-Legal Partnership – Richmond, Medical College of Virginia Foundation – $25,000
Medical-Legal Partnership – Richmond is an innovative community partnership between VCU Health System, CancerLINC, Central Virginia Legal Aid Society, the Legal Aid Justice Center and volunteer attorneys. MLP-Richmond was created to improve health outcomes for low-income patients by embedding lawyers in the healthcare clinic to address social determinants of health that are rooted in legal problems.
Public Service Internship Program, The Oliver White Hill Foundation – $46,179
The Public Service Internship Program will award stipends/scholarships to outstanding law students who have chosen to work unpaid internships that have a goal or focus of public interest in Virginia.
Rule of Law Day, Virginia Holocaust Museum – $6,700
The VHM and the Nuremberg Courtroom Committee jointly hold an annual "Rule of Law Day" award program which recognizes and honors individuals whose work, lives, and careers reflect the principles that were established during the Nuremberg Military Tribunal and later at the International Court of Justice. VLF grant monies will support the 2019 Rule of Law Day program, luncheon and CLE program.
Rule of Law Project, Center for Teaching the Rule of Law – $25,000
The Center for Teaching the Rule of Law seeks to fundamentally change the way the Rule of Law is taught in America's schools. In addition to being a web-based resource on a global scale, it is a community-level educational program that pairs members of local bar associations with teachers to collaborate in educating students about the preeminent role of the Rule of Law as the foundation for freedom, justice, equality, fairness and stability in civil societies based on democratic principles.
Rural Immigration Legal Services Program, Just Neighbors – $40,000
After 23 years of offering legal services in Northern Virginia, Just Neighbors will expand into four targeted rural areas in Virginia that are geographically isolated and sorely underserved by legal services providers. The grant monies will fund the Rural Immigration Legal Services Program, which will provide direct legal representation to this underserved population, as well as facilitate collaboration, education and volunteer opportunities.
Southwest Virginia Training Initiative, Southwest Virginia Legal Aid Society – $15,000
It is the mission of the Southwest Virginia Legal Aid Society to champion equal justice for low-income Virginians. To this end, it has been providing free civil legal services to low-income families in seventeen counties and four small cities in Southwest Virginia for more than four decades. VLF funds will help SVLAS present three day-long training conferences, including an expanded elder abuse conference and the annual domestic violence conference.
Statewide Legal Aid Conference, Virginia Poverty Law Center – $25,000
VLF grant money will help to fund VPLC's annual Statewide Legal Aid Conference, which educates legal aid attorneys and staff on those issues that most affect low-income Virginians. The three-day conference includes nearly fifty training sessions on health, family, housing and other areas of civil poverty law.
Victim Services Project, Legal Aid Society of Roanoke Valley – $30,000
This VLF 2019 grant will contribute funds toward the required 20% match of the Virginia Department of Justice Victims of Crime Act grant awarded to The Legal Aid Society of Roanoke Valley to expand its Victim Services Project. This match will allow their funds to go seven times further. Operating since 2000, the Victim Services Project serves a five-county area and focuses on those affected by domestic abuse, sexual assault, stalking and a variety of family law cases.
Virginia Beach Justice Initiative – $42,000
The Virginia Beach Justice Initiative was founded to initiate and facilitate justice for those who have been victimized by human trafficking and to bring justice to those who are perpetrators. VLF monies will support a full-time Advocacy Case Manager who coordinates screening and support services. Additionally, the grant will fund victim identification and assistance training for public defenders, criminal defense attorneys and local bar associations throughout Hampton Roads.
Virginia Justice Program, Capital Area Immigrants' Rights Coalition – $40,000
Capital Area Immigrants' Rights Coalition strives to ensure equal justice for all immigrant men, women, and children at risk of detention and deportation. CAIR Coalition's Virginia Justice Program ensures that public defenders and court-appointed counsel in Virginia are educated regarding the immigration consequences of crimes, thereby greatly increasing the likelihood that an indigent noncitizen in Virginia will have access to a defense counsel competent to advise them about the potential adverse immigration consequences of their case.
Virginia Judges and Lawyers Assistance Program – $20,000
Since 1985, the Virginia Judges and Lawyers Assistance Program (formerly Virginia Lawyers Helping Lawyers) has provided confidential, non-disciplinary support to lawyers, judges, law students and legal professionals who are experiencing impairment as a result of substance abuse or mental health conditions. Assistance is designed to promote recovery, protect the client, prevent disciplinary problems for the lawyer, support their families and professional associates and strengthen the profession.
Virginia Sexual & Domestic Violence Action Alliance – $25,000
The Virginia Sexual & Domestic Violence Action Alliance is Virginia's leading voice on sexual and intimate partner violence. It is an advocacy organization and a service provider, building diverse alliances across the state. In late 2017, it launched the Project for the Empowerment of Survivors, offered through its Statewide Hotline, providing survivors of violence an opportunity to find answers to legal questions and to carefully weigh legal options, via phone and chat, and to be linked with both legal advocacy and legal services in their communities.
VLF Public Service Internships – $50,000
Supported by the VLF since 1990, public service internships for first- and second-year law students help bring to light the importance of public interest and pro bono work. Each of Virginia's eight American Bar Association-accredited law schools receives funding for public service internships during the summer. The students work under the supervision of an attorney.
Fortunately, there are many lawyers working day in and day out to increase access to justice and to further education about the importance of the rule of law. For more information about the mission and work of the Virginia Law Foundation, or to donate, visit https://www.virginialawfoundation.org/.