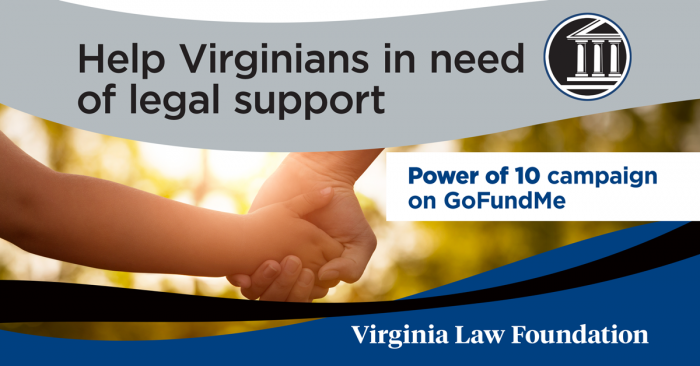 CHARLOTTESVILLE, VA, July 21, 2020. In response to the COVID-19 health and financial crisis, the Virginia Law Foundation launched a GoFundMe Charity campaign called The Power of $10, raising over $5,000 to support Virginians in need of legal aid. Since launching in May, more than 100 individuals contributed to the campaign, which will help a population that is increasing due to the current pandemic.
"The Virginia Law Foundation has always been about Real People, Real Impact," says Executive Director Ray White. "So this campaign was created to spread the word that we're also about Small Donations, Big Impact. We wanted people to know that no matter how much they're able to donate, they can see through real life examples that there is great power unleashed through their financial support of our work related to helping close the justice gap in Virginia."
According to the Virginia Legal Aid Society, there is only one legal aid lawyer for every 7,237 Virginians who cannot afford to pay legal fees. In addition, two out of three low-income households will most likely face at least one legal problem this year. The current health and financial crisis created by the COVID-19 virus will only increase the already considerable need for access to justice, especially among Virginians who have lost their jobs.
One 2020 Virginia Law Foundation grant recipient, the Virginia Poverty Law Center, said, "We foresee an avalanche of evictions filed when the courts reopen."
All donations to this campaign will flow directly into the foundation's 2021 grant funding to help the Virginia Law Foundation meet its mission to enhance Virginia's legal community's ability to meet the legal needs of all Virginians. Past grant recipients include the Capital Area Immigrants' Rights Coalition, the Virginia Beach Justice Initiative and the Southwest Virginia Legal Aid Society. While the Power of $10 campaign has ended, the Virginia Law Foundation also accepts donations here.