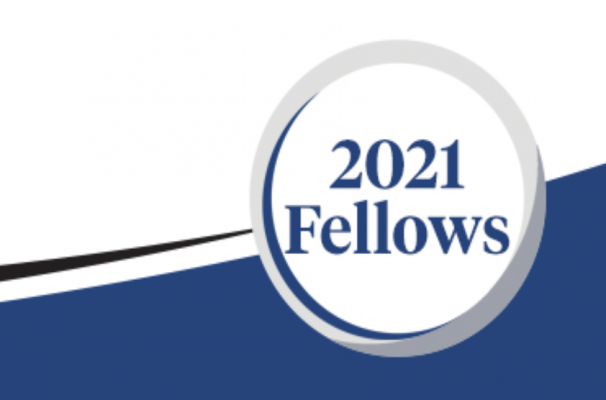 CHARLOTTESVILLE, January 26, 2021. The Virginia Law Foundation welcomed 18 new Fellows at our Annual Fellows Induction Celebration, held on Thursday, January 21. The Fellows Class of 2021 was greeted with open arms as the Virginia Law Foundation recognized our newest inductees in a virtual ceremony. This annual event is a time for reflection and rejoicing as the foundation recognizes the past year's accomplishments despite the challenges of the COVID-19 pandemic and anticipates the future of 2021 with confidence and hope.
Following opening words from Virginia Supreme Court Justice S. Bernard Goodwyn, the induction of the 2021 Class of Fellows was announced by Virginia Law Foundation President Jon D. Huddleston and Edward L. Weiner, Chair of the Fellows Committee. Fellows are recognized as leaders in the profession, not just in their practices but in their communities, and nominated by their colleagues. The 18 new Fellows join a group of more than 500 of Virginia's best and brightest legal practitioners, committed to the highest ideals of the law and to the concept of citizen lawyer.
The virtual induction included a video interview with each of the inductees who shared their perspective on being honored as a citizen lawyer in their local communities and beyond. "The challenges of the past year forced us to take a hard look at our induction program. The opportunity to hear from our inductees and what drives, and influences them as citizen lawyers was such a plus and so positive," according to Mr. Huddleston. "You cannot help but be inspired after listening to the comments of our newest class of inductees. They make you feel really good about being a lawyer. Our new format will stay with us for years to come."
Meet the members of the 2021 Class of Fellows and learn what the Virginia Law Foundation's mission means to them in this video.
The 2021 Class of Fellows:
Robert A. Angle (Richmond)
Renu M. Brennan (Richmond)
Alexandra Brisky Cunningham (Richmond)
L. Steven Emmert (Virginia Beach)
Carolyn V. Grady (Richmond)
Nicole J. Harrell (Norfolk)
Jack L. Harris (Richmond)
Jean M. Kelleher (Alexandria)
R. Lee Livingston (Charlottesville)
Charles F. B. McAleer, Jr. (Arlington)
Sakina Karima Paige (Richmond)
William E. Phillips (Lynchburg)
Dale Wood Pittman (Petersburg)
Michael J. Quinan (Richmond)
Colleen Marea Quinn (Richmond)
Robert E. Sevila (Leesburg)
Kathleen M. Uston (Alexandria)
The Honorable Robert W. Wooldridge, Jr. (Herndon)
Thank you to our sponsors of the 2021 Virginia Law Foundation Fellows Induction Ceremony: