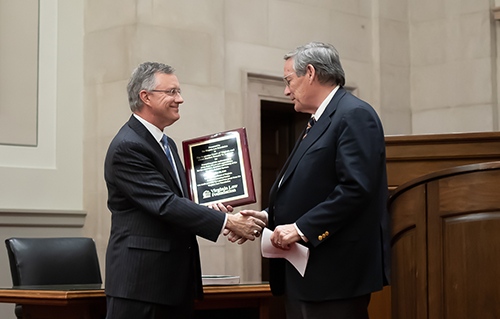 VLF President Andy Morse presents Chief Justice Donald W. Lemons with an honorary plaque commemorating the new  Judicial Learning Center, which promotes the Rule of Law and celebrates the Virginia judiciary.
CHARLOTTESVILLE, November 15, 2019: On November 13, the Virginia Law Foundation and the Supreme Court of Virginia celebrated the new Judicial Learning Center in Richmond. The event provided an opportunity to reflect on the Center's important goal of promoting public understanding of the Rule of Law and the history of the Virginia judicial system. The Judicial Learning Center was made possible by a $75,000 Virginia Law Foundation grant in 2018.
VLF President Andy Morse, Chief Justice Donald W. Lemons, and State Law Librarian Gail Warren addressed those in attendance. To further honor the Supreme Court of Virginia's success, Mr. Morse presented Chief Justice Lemons with a plaque commemorating the exhibit.
"Chief Justice Lemons had a vision for ensuring that Virginia's rich judicial history was illuminated in the way it deserved," said Mr. Morse. "This Center fulfills that vision while making our judicial history more accessible to a wide and growing audience."
The Virginia Law Foundation has provided over $26 million to support projects that facilitate access to justice, promote an appreciation of the Rule of Law, and provide law-related education. The Judicial Learning Center is yet another example of the impact of the Virginia Law Foundation's grant program.
"The stories illuminated in this exhibit are central to the story of how Virginia played a key role in America's journey in support of the Rule of Law, access to justice, and equality," said Mr. Morse. "There is something in this exhibit for learners of all ages."
We could not be more proud to support the Judicial Learning Center and we encourage any and all to visit this wonderful museum. To learn more or to schedule a tour, please visit https://scvahistory.org.