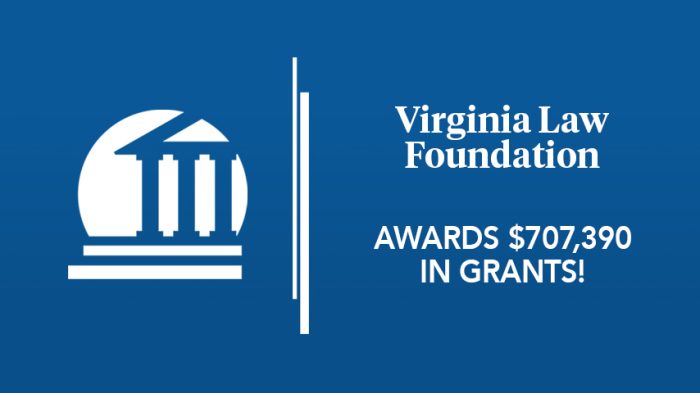 The Virginia Law Foundation announces our 2023 grant recipients and awards $707,390 to 32 organizations. Since the establishment of the grants program in 1984, the VLF has awarded more than $28 million in grants to initiatives and nonprofits throughout Virginia aligning with the VLF's three-pronged mission:
To increase access to justice by improving access to legal support for the underserved and to support those offering competent, pro bono or affordable legal representation
To foster an appreciation for and understanding of the Rule of Law in society
To educate the general population on the Rule of Law and to cultivate the next generation of citizen lawyers
"The total grant support this year is a record for us, but it is still only one-third the amount requested by our worthy applicants," comments Ray White, executive director of the Virginia Law Foundation. "While we are drawing from our own resources to support their efforts to meet their missions, we remain forever indebted to our generous donors. 100% of their donations go directly to fund these grants, and because of their support, we continue to provide even more than we could on our own."
Thoroughly reviewed and selected by the Grants Committee, annual grants are fairly and thoughtfully determined and fund a wide range of projects. This year's recipients include public service internships for law students, medical-legal partnerships, entities providing legal support to victims of abuse and violence, civic education programs and other critical causes.
"What we each do in the law matters, but it only matters if the law serves all citizens of this great Commonwealth. That is where the Virginia Law Foundation shines," comments Stephen E. Noona, chair of the VLF's Grants Committee. "Through its competitive grant application process, the VLF champions its cause to bolster the Rule of Law, its commitment to provide access to the law for all Virginians and its promise to gift all funds raised and donated directly back to our Virginia community."
The grants program also supports our vision of a future where every Virginian has access to justice. Several 2023 grants support legal aid organizations and projects engaging attorneys in pro bono in an effort to close the significant justice gap, which represents the difference between the legal needs of low-income Virginians and the resources available and accessible to meet those needs. According to the Legal Services Corporation's 2022 Justice Gap Study, 92% of low-income Americans do not receive any or enough legal help for their civil legal problems, and nearly half of these individuals do not seek assistance due to financial concerns.
The Virginia Law Foundation, both through our philanthropy and our education division, Virginia CLE®, aims to close this justice gap and strengthen communities. "Our grants support diverse nonprofits across the state and touch the lives of literally thousands of Virginians," continues Noona. "This is palpable, impactful and transformational work, and it is exemplary of how the VLF is truly a 'force for good.'"
To honor and award this year's grants, the Virginia Law Foundation will host a Grants Luncheon on August 24 in Richmond.
2023 VIRGINIA LAW FOUNDATION GRANT RECIPIENTS 
Appalachian School of Law — $25,000
Blue Ridge Legal Services, Inc. — $25,000
CancerLINC — $10,000
Capital Area Immigrants' Rights Coalition — $20,000
Central Virginia Legal Aid Society — $25,000
Council on Legal Education Opportunity Inc. — $10,000
Drive-To-Work — $25,000
Fairfax Law Foundation — $20,000
Freekind — $25,000
Greater Richmond Bar Foundation — $30,000
Jamestown Rediscovery Foundation — $25,000
Jazz4Justice — $8,000
John Marshall Center for Constitutional History & Civics — $50,000
Legal Aid Justice Center — $15,000
Legal Aid Society of Eastern Virginia — $10,000
Legal Services of Northern Virginia — $12,500
Library of Virginia — $70,000
Mason Veterans and Servicemembers Legal Clinic ("M-VETS") — $30,000
Montpelier Foundation — $15,000
Resolution Virginia — $8,000
Virginia Civics Education, Inc. — $20,000
Virginia Hispanic Foundation — $10,000
Virginia Judges and Lawyers Assistance Program — $20,000
Virginia Law-Related Education Institute — $10,000
Virginia Law Schools, Public Service Internships — $60,000
Virginia Lawyers for Children — $10,000
Virginia Legal Aid Society — $21,000
Virginia Museum of History & Culture — $16,890
Virginia Poverty Law Center — $40,000
Virginia State Bar Diversity Conference — $15,000
Virginia State Bar Senior Lawyers Conference — $6,000
Virginia Victim Assistance Network — $20,000
To learn more about the Virginia Law Foundation's 2023 grant recipients, visit this page.