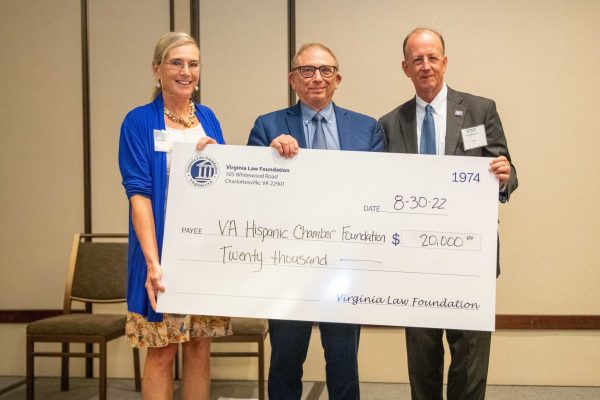 The Virginia Law Foundation hosted its Grants Luncheon on August 30, 2022, at the Westin Richmond and officially awarded more than half a million dollars in grants to 24 non-profit organizations. This celebratory event marked the first in-person grants luncheon since 2019, and it gathered grant recipient representatives, board and committee members, donors and friends of the Virginia Law Foundation to congratulate this year's recipients.
"The Virginia Law Foundation is simply a reflection of our wonderful and generous donors," says Ray White, Executive Director of the Virginia Law Foundation. "We are only as good as the reasons we give them to invest in what we do, and in this record-setting year for contributions, they were much of the reason we could make so many grants in support of programs enlisting lawyers who provide no or low-cost legal services to thousands of Virginians who can't afford a lawyer."
This year's grants support a variety of projects and organizations, including legal aid nonprofits, continuing legal education programming, medical-legal partnerships, public service internships for law students and many other relevant causes. At the luncheon, each grant recipient was recognized by Colleen M. Quinn, chair of the Grants Committee, and John D. McGavin, president of the Virginia Law Foundation, and was presented with their grant award. Representatives on behalf of each organization shared about their project and how the essential funding from the Virginia Law Foundation supports their important work.
"Our grants program is the most important way we enact our mission, and it was remarkable to hear from each recipient about their commitment to the Rule of Law, access to justice and legal education," says John D. McGavin. "These grants were made possible by the generous support of our many donors and with additional proceeds from Virginia CLE®, our outstanding continuing legal education division. I want to thank the lawyers choosing Virginia CLE®, which enables us to grow our ability to support the good work of these organizations, and the generous donors for contributing to the Virginia Law Foundation. On behalf of the Virginia Law Foundation, I congratulate this year's grant recipients for their commitment to making our Commonwealth a better place to live."
Since the establishment of its grants program in 1984, the Virginia Law Foundation has distributed more than $27.5 million in grants to initiatives and nonprofits throughout Virginia aligning with the Foundation's mission to promote the Rule of Law, access to justice and law-related education. Many of this year's grant recipients are responding directly to an increased need for legal aid due to challenges created by the multi-year COVID-19 pandemic and the growing justice gap, which represents the difference between the legal needs of low-income Virginians and the resources available and accessible to meet those needs.
The list of 2022 grant recipients is below, as are some lovely photos from the Grants Luncheon, and to learn more about the Virginia Law Foundation's 2022 grant recipients, visit this page.
2022 Virginia Law Foundation Grant Recipients:
Appalachian School of Law — $25,000
Blue Ridge Legal Services — $25,000
Capital Area Immigrants' Rights Coalition — $20,000
CancerLINC — $10,000
Charlottesville Albemarle Bar Association — $12,500
Drive-To-Work — $25,000
Fairfax Law Foundation — $25,000
Freekind — $30,000
Jamestown Rediscovery Foundation — $25,000
Jazz4Justice — $8,000
John Marshall Center for Constitutional History & Civics — $30,000
Just Neighbors — $20,000
Library of Virginia Foundation — $30,000
Montpelier Foundation — $25,000
Randolph-Macon College — $14,569
Resolution Virginia — $8,000
Southwest Virginia Legal Aid Society — $18,000
VA Civics — $20,000
Virginia Hispanic Chamber Foundation — $20,000
Virginia Judges & Lawyers Assistance Program — $15,000
Virginia Law Schools, Public Service Internships — $60,000
Virginia Poverty Law Center — $32,500
Virginia Sexual & Domestic Violence Action Alliance — $25,000
Virginia Victim Assistance Network — $25,000