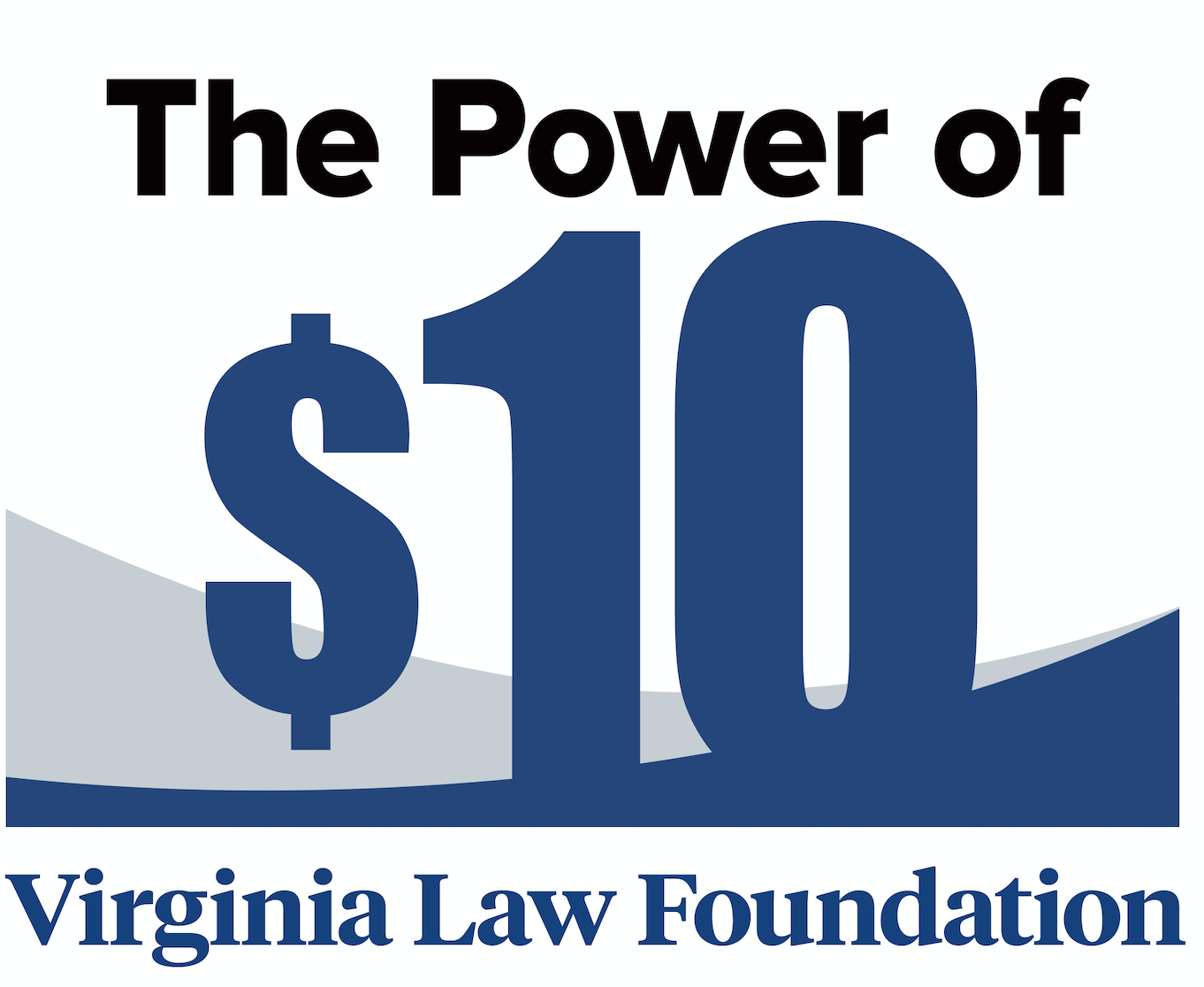 Did you know there is only one legal aid lawyer for every 7,237 Virginians who cannot afford to pay legal fees? Or that 2 out of 3 low-income households will face at least one legal problem this year? The current health and financial crisis created by the COVID-19 virus will only increase the already considerable need for access to justice, especially among Virginians who have lost their jobs.
To help meet this need, the Virginia Law Foundation has launched this Power of $10 GoFundMe campaign. With a donation of just $10, you can make a real difference in the lives of real people. We believe every Virginian should have access to justice, so we've been providing grants to Virginia's law-related not-for-profit organizations in need since 1982. And please know 100% of every donation, no matter how large or how small, flows directly into our grants program.
Ray White, Executive Director of the Virginia Law Foundation, answers two essential questions about the Power of $10 initiative.
How will this campaign help Virginians in need? 
"While the Virginia Law Foundation has recently provided over half a million dollars annually to not-for-profit organizations, many of which are providing legal representation to those who can't afford it, because of limited resources there are still hundreds of thousands of dollars in grant requests that we're unable to fund. The money raised through this campaign will go a long way toward helping to close the justice gap by helping to close the funding gap."
What is the significance of our Power of $10 campaign?
"The Virginia Law Foundation has always been about Real People, Real Impact. Well, this campaign was created to spread the word that we're also about Small Donations, Big Impact. We want people to know that no matter how much they're able to donate, they can see through real life examples that there is great power unleashed through their financial support of our work related to helping close the justice gap in Virginia."
Read how the power of $10 impacted some of last year's grant recipients in the examples below.
Capital Area Immigrants' Rights Coalition: "$10 can help us gather evidence to support a person's case by covering fees for records, including documents from criminal cases."
Virginia Beach Justice Initiative (for victims of human trafficking): "$10 buys stamps for 18 letters, so clients and potential clients can correspond with VBJI. It also covers 2 all-day bus passes so clients can attend court, or a job, if they have one."
Virginia Poverty Law Center: "$10 buys stamps to mail materials to people who call our Eviction Legal Helpline. The helpline has seen a considerable increase in calls. We foresee an avalanche of evictions filed when the courts reopen."
Southwest VA Legal Aid  Society: "$10 can be used to purchase coloring books and crayons for a legal aid waiting room."
We hope you will join the Virginia Law Foundation's Power of $10 campaign by donating at least $10 – or more – today.