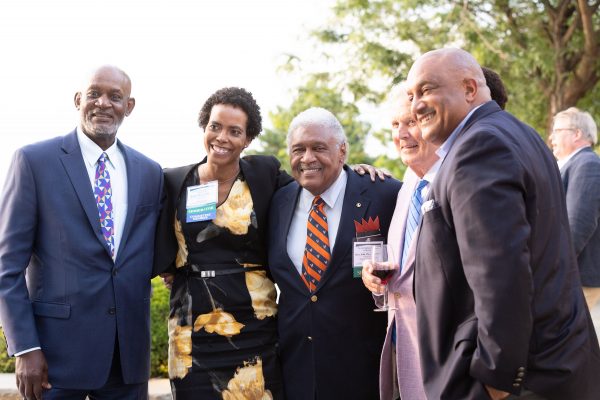 The first-of-its-kind institute explored critical issues involving policing and featured more than 20 esteemed faculty.
CHARLOTTESVILLE, VA — June 16, 2022 — On June 6 and 7, the Virginia Law Foundation, the Virginia Bar Association, the Old Dominion Bar Association and Thomas Jefferson's Monticello co-presented the inaugural Civil Rights Law Institute, a timely event to explore police misconduct and civil rights from legal and societal perspectives. The Institute attracted civic leaders from several regions and professions, including former Virginia Supreme Court Justice John Charles Thomas, Senator Jennifer L. McClellan, Senator Thomas K. Norment, Jr., University of South Carolina Professor Seth W. Stoughton, who was a key witness in the trial of Derek Chauvin for the death of George Floyd, and several others.
"The strength and dedication of our profession to the dominant principle that the law is to protect, as well as to prosecute, was on full display at the inaugural Civil Rights Law Institute," comments David Landin, a Trustee of the Thomas Jefferson Foundation. "There is a Power of Place at Monticello. Thomas Jefferson would approve of this gathering of leaders."  
This first-of-its-kind institute focused on the "Law of Order" and discussed handling and litigating police misconduct cases through four core panels. The Institute's faculty also included leading attorneys and scholars, key players in the Commonwealth's law enforcement and governmental institutions, college administrators, journalists, historians, and directors of civil rights organizations. Participants in this relevant educational experience were able to converse with panelists, civic and community leaders and more than 100 attendees, plus a virtual audience who tuned in via livestream.
"The Virginia Law Foundation was established in 1974, the Old Dominion Bar Association in 1942, The Virginia Bar Association welcomed its first members in 1888, and the construction of Monticello began in 1769. With a combined history of over five hundred years, I dare say that this annual Civil Rights Law Institute has now taken its rightful place among the great accomplishments born of each institution over time," says Ray White, executive director of the Virginia Law Foundation. "To build and launch this initiative together, and to be joined by some of Virginia's leading law firms, businesses, and a packed house of attendees over the better part of two days at the spectacular Montalto, this initiative screams from the highest mountaintop that we've proudly constructed a monumental and enduring contribution to the future of Virginia – and perhaps, of America."
The Institute began on June 6 and featured tours of Monticello, a cocktail reception and dinner at Montalto, the Thomas Jefferson Foundation's education center situated 400 feet above Monticello. Leslie Greene Bowman, president of the Thomas Jefferson Foundation, opened the evening with remarks acknowledging the significant contributions of Thomas Jefferson as well as his most glaring contradiction as an enslaver of more than 600 people. Reflecting upon this aspect of Jefferson's life with the subject matter of the Institute in mind added relevant context and depth to the discussions of policing and civil rights in America.
After dinner, the Honorable John Charles Thomas delivered an impassioned keynote, during which he also recited his poem, "Light the Soul," and set the tone for the next day's panels and discussions.
During the all-day event on June 7, experts from various fields reviewed and discussed the subtleties of the laws surrounding civil rights and the latest developments in this field. The topics of the four panels discussed centered around historical perspectives and precedent regarding law and legislative intent on the nature and purpose of policing, police power on university campuses, the law of excessive force and legal remedies, and the legal and practical ramifications of new legislation designed to curtail police abuses. A full list of participating faculty is featured below, and all panels can be viewed here.
"The Old Dominion Bar Association was proud to play a part of this momentous undertaking. The Institute's goal of providing a forum for meaningful exchange of dialogue of this pertinent topic was certainly accomplished," says Bruce Sams, immediate past president of the Old Dominion Bar Association. "Those attending the program were treated to a spirited discourse and debate regarding the history, root causes and legal impact of police misconduct in America."
In addition to this being an inaugural event, the Civil Rights Law Institute also marks the first time all four presenting organizations have partnered. This event was generously supported by Altria, Dominion Energy, McGuireWoods LLP, Troutman Pepper, Truist, Blankingship & Keith, PC, Kaufman & Canoles, Landin Law Group PLLC, Spotts Fain, Hunton Andrews Kurth LLP, Woods Rogers/Vandeventer Black, Virginia CLE®, and Rudene and Ricardo Haynes.

FACULTY OF THE 2022 CIVIL RIGHTS LAW INSTITUTE:
Mary Bauer, Executive Director of the American Civil Liberties Union of Virginia
DeAnza A. Cook, History Ph.D. Candidate, Harvard University
Chief Maggie DeBoard, Chief of Police, Herndon Police Department, Herndon, Virginia
Dr. Sally Hadden, Associate Professor and the Director of Graduate Studies in the Department of History, Western Michigan
Professor Anna Lvovsky, Assistant Professor of Law Harvard Law School, Harvard University
Joseph Martins, Associate Dean, and Professor, Liberty University School of Law
Senator Jennifer L. McClellan, Virginia State Senator, Democrat, 9th District
Dr. Cassandra Newby-Alexander, Dean of the College of Liberal Arts, Norfolk State University
Senator Thomas K. Norment, Jr., Virginia State Senator, Republican, 3rd District
Roscoe Roberts, Esq., Former Chief Counsel for the University of Virginia
Juval Scott, Public Defender, Western District of Virginia
Professor Seth W. Stoughton, Professor of Law, Professor (by Courtesy) of Criminology and Criminal Justice, University of South Carolina
John Venuti, Associate Vice President of Public Safety VCU and VCU Health System, and Chief of VCU Police Department
Professor Paul J. Zwier, II, Professor of Law, Emory University, Atlanta, Georgia
MODERATORS AND SPEAKERS:
Leslie Greene Bowman, President, Thomas Jefferson Foundation (Speaker)
Dean Risa Goluboff, Dean / University of Virginia School of Law (Moderator)
Chief Judge Roger L. Gregory, Fourth Circuit, U.S. Court of Appeals (Moderator)
Rudene Mercer Haynes, Partner / Hunton Andrews Kurth LLP (Moderator)
Alison M. McKee, Attorney, Kaufman & Canoles, Virginia Beach, Past President of the Virginia Bar Association (Moderator)
David Landin, Trustee of the Thomas Jefferson Foundation; Past President, Virginia Bar Association and Virginia Law Foundation; Past President, Virginia Association of Defense Attorneys (Speaker)
Bruce C. Sams, Attorney, Law Office of Bruce C. Sams, Immediate Past President of the Old Dominion Bar Association (Speaker)
Judge John Charles Thomas, Former Justice of the Supreme Court of Virginia (Keynote Speaker)
Ray White, Executive Director, Virginia Law Foundation (Speaker)
---
About the Virginia Law Foundation:
The Virginia Law Foundation has provided more than $27 million in grants since its inception to support law-related projects throughout the Commonwealth that further its mission to facilitate access to justice and promote an understanding of the Rule of Law.
The VLF Fellows Program encourages civic-mindedness and recognizes excellence in the practice of law and public and professional service.
Virginia CLE® is conducted through the Foundation's Education Division and is the recognized leader in providing continuing legal education for Virginia lawyers.
For more information, please visit www.virginialawfoundation.org.
About the Old Dominion Bar Foundation:
Spawned from the need to confront a policy that offended personal and professional dignity, from the need for African-American lawyers to associate for personal and professional growth, and from a need to encourage African-American lawyers to participate in the Virginia State Bar, the ODBA grew into an organization that filled not only those particular needs but one that also has provided continuity of leadership and support with respect to the various concerns of particular interest to African Americans and other people of color.
For information, visit www.olddominionbarassociation.com.
About the Virginia Bar Association:
The Virginia Bar Association (www.vba.org) is the Commonwealth's first and largest statewide voluntary organization of lawyers and judges. As the independent voice of the Virginia lawyer, the VBA advances the highest ideals of the profession through advocacy and volunteer service.
About the Thomas Jefferson Foundation at Monticello:
The Thomas Jefferson Foundation was incorporated in 1923 to preserve Monticello, the home of Thomas Jefferson, in Charlottesville, Virginia. Today, the Foundation seeks to bring history forward into national and global dialogues by engaging audiences with Jefferson's world and ideas and inviting them to experience the power of place at Monticello. Monticello is recognized as a National Historic Landmark, a United Nations World Heritage Site and a Site of Conscience. As a private, nonprofit organization, the Foundation's regular operating budget does not receive ongoing government support to fund its twofold mission of preservation and education. For information, visit Monticello.org.