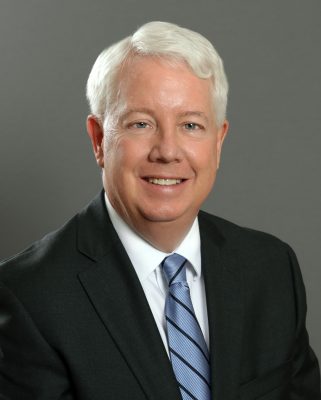 CHARLOTTESVILLE, January 5, 2021. Jon D. Huddleston has succeeded Matthew E. Cheek as President of the Virginia Law Foundation (VLF) for the calendar year of 2021. "Passing the baton of the Virginia Law Foundation's presidency to someone like Jon Huddleston is both an honor and a luxury," says Mr. Cheek, 2020 President of the Virginia Law Foundation.
"Jon is no stranger to bar service at the local or state level, including his award-winning service as a former president of the Virginia State Bar," Mr. Cheek continues. "But Jon's style as a fun, inclusive and wise leader puts the Foundation, its board and its staff in especially great hands in 2021."
Mr. Huddleston is a principal with Sevila, Saunders, Huddleston & White, P.C., where he has practiced since his admission to the Bar in 1986. He served as the 71st president of the Virginia State Bar (VSB) in 2009-10. His presidential project, Virginia is for Good Lawyers, received national acclaim and the Thomson Reuters Legal Luminary Award presented by the National Association of Bar Executives.
Since 1986, Mr. Huddleston has been active in numerous capacities within the Virginia State Bar, including the Bar Council and the Executive Committee, and also previously served on the Board of Directors of the Virginia Law Foundation. Frequently listed as a member of the Virginia Legal Elite by "Virginia Business Magazine" and named a "Super Lawyer" for the Washington, D.C. area and the Commonwealth of Virginia, he was also chosen for the 2011 class of "Leaders in the Law" by "Virginia Lawyers Media."
In addition, Mr. Huddleston is past chair and executive committee member for the VSB's Conference for Local Bar Associations, as well as a past member of the Board of Governors of the VSB's Young Lawyers Conference. He has served as a faculty member for the State Bar's Mandatory Professionalism Course and the Professionalism Court for Law Schools. He is also past president of the Loudoun County Bar Association.
Mr. Huddleston's practice area includes all facets of family law as well as defense of driving under the influence (DUI) and serious traffic offenses. He is a frequent lecturer and serves as a faculty panelist teaching Virginia Continuing Legal Education on the defense of traffic offenses.
Outside the office, Mr. Huddleston is an active member of the Loudoun County community, serving as a travel soccer coach with the Leesburg Football Club and Loudoun Soccer. He has also coached basketball with the Central Loudoun Basketball League. He is married to Cyndy Huddleston, and the couple has two children, Bobby (25) and Jack (20).
Photo by David Galen