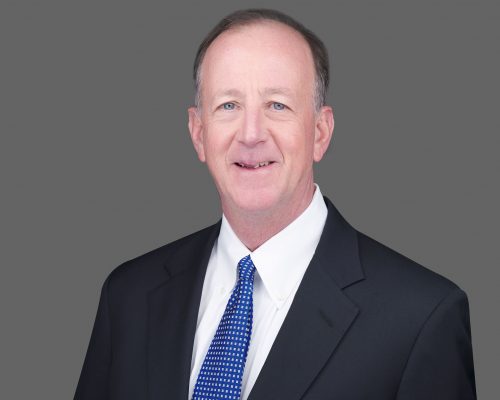 The Foundation announces its 2022 Officers and the addition of new board members.
The Virginia Law Foundation's Board of Directors welcomes two new board members and a new slate of officers, including John McGavin as President for the 2022 calendar year.
"The Foundation has prospered the last couple of years in spite of numerous challenges in the Post-Pandemic World. I can think of no better person to guide us through the coming year," says Jon Huddleston, 2021 President of the Virginia Law Foundation. "John's diligence and vision make him uniquely suited to move the Foundation forward and to make a palpable difference benefitting Virginians in ways that we have just begun to touch on."
McGavin is a principal and managing partner of McGavin, Boyce, Bardot, Thorsen & Katz, PC, and a Fellow of the Virginia Law Foundation, the American College of Trial Lawyers, and the Litigation Counsel of America. Known as a leader in the field of litigation, he is widely recognized for his extensive trial experience. In 2018, he was selected as Lawyer of the Year for Products Liability Defense in Washington, D.C., and in 2015 as Personal Injury Defense Lawyer of the Year for Washington, D.C.
In addition to his continued service to the Virginia Law Foundation, he serves on the Steering Committee of the prestigious Boyd-Graves Committee. McGavin is also past-president of the Virginia Association of Defense Attorneys and a member of the Select Committee of the Virginia Bar Association (VBA) that authors Virginia's Evidence Handbook.
"In 2024, the Virginia Law Foundation will celebrate its 50th anniversary. As this milestone approaches, we are uniquely qualified and prepared to lead our legal community as the preeminent nonprofit dedicated to public service," says McGavin. "Our professional staff, led by Executive Director Ray White, and the volunteers on the CLE Committee continue to develop new and thoughtful educational programs and high-quality video presentations, and our philanthropic intiatives are also increasing substantially each year. With our endowment and the generosity of our donors, we are able to make grants that impact our citizens by promoting access to justice, the Rule of Law, and law-related education." 
"Now more than ever, our legal system and our judiciary, are subject to a loss of public confidence with threats to pack the Supreme Court, highly charged nomination proceedings, and our nation has been sharply divided on many issues," he continues. "We are not engaged in politics and support no political agenda. We are lawyers dedicated to the 'public good.' We inspire, lead, serve, and educate. As we prepare for our 50th anniversary in two years, and plan for the contributions of the Foundation for the next 50 years, it is an honor and a privilege to be a Fellow of the Virginia Law Foundation and to serve as its President."
The Foundation's 2022 Board Officers also include: 
Jon D. Huddleston, Immediate Past President
Hon. Jane Marum Roush, President-Elect
Colleen M. Quinn, Vice President

 

Teresa L. Moore, Secretary
Stacie M. Merriam, Treasurer
The Foundation also welcomes two new board members to begin three-year terms. Farnaz F. Thompson, a skilled litigator with McGuireWoods (Washington, D.C.), and C. Roberts, most recently General Counsel for the University of Virginia, joined the Foundation's leadership as of January 1, 2022. Thompson will serve on the Continuing Legal Education (CLE) Committee and Development & Philanthropy Committee, and Roberts will serve on the Fellows and Grants Committees.
With the support of its Board, the Virginia Law Foundation will continue its annual initiatives, including the induction of its next Fellows Class, which is slated to take place virtually on January 26. The Foundation's annual grants program, which distributed more than $600,000 in grants in 2021, will reopen in February 2022. In addition to ongoing CLE programming by Virginia CLE®, the Virginia Law Foundation, in partnership with The Virginia Bar Association, the Old Dominion Bar Association, and Thomas Jefferson's Monticello, will present the inaugural Civil Rights Law Institute at Monticello on June 7. More information on these initiatives and more can be found at www.virginialawfoundation.org.  
To view the Virginia Law Foundation's 2022 Board of Directors, please visit this page. 
# # #
About the Virginia Law Foundation:
The Virginia Law Foundation has provided more than $27 million in grants since its inception to support law-related projects throughout the Commonwealth that further its mission to facilitate access to justice and promote an understanding of the Rule of Law. The Virginia Law Foundation Fellows Program encourages civic-mindedness and recognizes excellence in the practice of law and public and professional service. Virginia CLE® is conducted through the Foundation's Education Division and is the recognized leader in providing continuing legal education for Virginia lawyers. For more information, please visit www.virginialawfoundation.org.
For more information, please contact: 
Katie Arata
Sr. Director of Development and Philanthropy
Virginia Law Foundation
804.648.0112 | karata@vacle.org