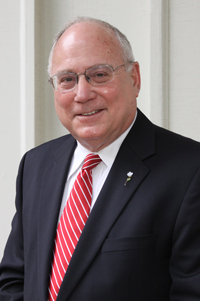 Effective January 1, 2016, Irving M. Blank, Esq. succeeds John D. Epps, Esq as President of the Virginia Law Foundation.
Mr. Blank is a Partner at ParisBlank, LLP in Richmond, VA, a widely respected Virginia law firm with a legacy that extends back to 1951. The firm offers legal representation primarily for people who are suffering due to accidents caused by others' negligence or facing criminal charges.
Irv Blank has been an outstanding leader of the legal profession for many years. The Virginia Law Foundation is lucky to have someone of his experience and wisdom as its leader. This coming year will no doubt be an outstanding year for the Foundation and, importantly, for the organizations the Foundation supports.
Mr. Blank served as president of the Virginia State Bar and as a member of the Virginia State Bar Select Commission on Professionalism. He has been named to various boards and commissions of the Commonwealth of Virginia by seven different governors, is the Treasurer and Founder of the Virginia Congressional Committee, and a member of the Boyd-Graves Conference. Mr. Blank was the recipient of the 2009 Distinguished Community Service Award from the Richmond Jewish Community Federation, its highest honor. He has been listed among the American Trial Lawyers Association's Top 100 Trial Lawyers, was selected to the 2011 class of the Virginia Leaders in the Law, and selected by the class as the 2011 Leader of the Year. He is a Fellow of the American College of Trial Lawyers and the Virginia Law Foundation.
Mr. Blank earned his juris doctor degree from the University of Richmond School of Law and his bachelor's degree from Virginia Polytechnic Institute and State University.