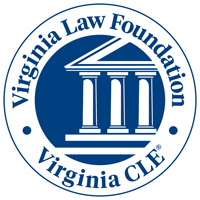 Nominate a Colleague for the 2022 Class of Fellows
Virginia Law Foundation Fellows represent the best and brightest legal practitioners, committed to the highest ideals of the law and to the concept of citizen lawyers, and each year we extend the opportunity to nominate exemplary individuals for this prestigious honor. Fellows are essential to our Foundation, and as we continue to expand this network, we are currently accepting nominations for the Virginia Law Foundation Fellows Class of 2022 until June 15.
Created in 1987 to honor the community service and integrity of Virginia Bar members, our Fellows Program has inducted more than 500 Fellows over the past 34 years. The Fellows Program encourages civic-mindedness and recognizes leaders in the legal profession, not just in their practices but in their communities as well. Fellows are nominated confidentially by their peers during the annual nomination period that runs February 1 – June 15.
To be chosen as a Fellow by the Virginia Law Foundation is both an honor and a recognition of excellence among peers. Since this group is nominated and selected by peers, we asked some of our Fellows to share what this honor means to them.
Irving M. Blank (Fellows Class of 2008), a partner at Blank & Marcus, LLC, in Richmond, has been practicing for 54 years and has been been active in Bar service throughout his career. "Being a Virginia Law Foundation Fellow, VSB President, selected as Virginia's Leader of the Law in 2011, and inducted into the Virginia Lawyers Hall of Fame were all significant honors for which I am very humbled and grateful," Irving says.
"My years on the Board of the Virginia Law Foundation and as President resulted in some of the most meaningful events in my career. I was fortunate to be serving when the Law Foundation went from being the 'best kept secret in Virginia Law' to one of the most impactful organizations in our legal community.
"The 'combining' of Virginia CLE® with the Virginia Law Foundation has given the legal community the opportunity to fund many programs, as well as provide the highest quality continuing legal education in the country. I have said many times that the board I most wanted to remain on was the Virginia Law Foundation, as the Law Foundation truly exemplifies the best of Virginia's lawyers."
According to Colleen Quinn (Fellows Class of 2021), a principal at Locke & Quinn in Richmond, "Being inducted as a Fellow of the Virginia Law Foundation is super special to me in part because I already have been serving on the Virginia Law Foundation Board and know what an honor it is to be selected to this noble group of citizen lawyers who are devoted to the Rule of Law, access to justice, and law-related education."
Colleen also emphasizes the importance of recognizing more colleagues through induction into the Fellows Program. "I also have been amazed at how many others out there have not yet been nominated but also are deserving of this honor — and so far I am batting 100% with all four that I have nominated being selected. Please consider nominating someone this year before the deadline!"
If you'd like to nominate one of your peers for the Fellows Class of 2022, please note that nominations are due on June 15, and the nomination form and additional information can be found by visiting this link.
Candidates must meet the following criteria to be eligible for nomination:
Be an active or associate member of the Virginia State Bar for at least 10 years
Be a resident of Virginia
Be a person of integrity and character
Have maintained and upheld the highest standards of the profession
Be outstanding in the community
Be distinguished in the practice of law
Retired and senior status judges are also eligible
Sitting full-time judges are not eligible during their tenures
Visit this link to hear additional testimonies and to learn more about our Fellows.