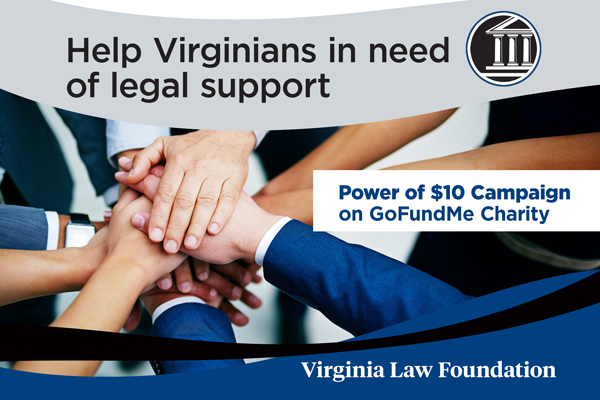 The ongoing pandemic continues to create immense challenges for our communities, but if we join together and pool resources, we truly can make a difference. With the help of more than 120 donors last year, we showed how the Power of $10 can go a long way in transforming the lives of real people.
This year, we received funding requests for twice the amount of our annual grant allocation, highlighting the increasing needs of our Virginian communities. In response, we are increasing our goal for this Power of $10 GoFundMe Charity Campaign to $7,500.
Please know that 100% of every donation will flow into our grants for not-for-profits that work to increase Virginians' access to justice, promote the Rule of Law, and enhance legal education throughout the Commonwealth.
Together, we can show how small donations can have Real Impact on the lives of Real People in our community, our Commonwealth.
How can just $10 help our grant recipients?
"$10 covers printing and shipping fees so important legal documents that could substantively support someone's case can make it to court as quickly as possible." – Capital Area Immigrants' Rights Coalition
Learn more or donate now! 100% of every donation flows directly into our grants program.