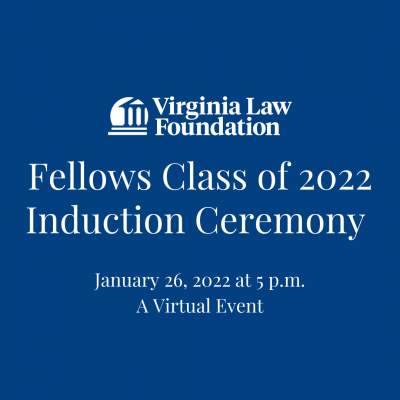 YOU ARE INVITED
Fellows Class of 2022 Induction Ceremony
A Virtual Event | January 26, 2022 at 5 p.m.
The Virginia Law Foundation is pleased to invite you to our virtual Fellows Class of 2022 Induction Ceremony on January 26, 2022. Nominated confidentially by their peers, Virginia Law Foundation Fellows are recognized for leadership in their practices, their communities, and the Commonwealth. The Class of 2022 joins a group of more than 600 of the best and brightest legal practitioners in Virginia who are committed to the highest ideals of the law and exemplify the concept of citizen lawyer. To learn more about our Fellows, please visit this page of our website.
While we cannot gather in person this year to celebrate, we look forward to sharing this virtual event with all who are interested in attending. We are also thrilled to welcome the Honorable Barbara Milano Keenan, Senior Judge of the United States Court of Appeals for the Fourth Circuit, as our keynote speaker.
Watch the Fellows Class of 2022 Induction Ceremony by following this link. 
Our Fellows Class of 2022:
Maryse Celine Allen
David Dennis Beidler
Brian Lawrence Buniva
Angela Adair Ciolfi
Robert B. "Chip" Delano, Jr.
Robert Bruce Dickerson
Hon. J. Michael Gamble
Freddie L. Goode
David L. Greenspan
Gregory J. Haley
Jill A. Hanken
Melissa Hogue Katz
Hon. Gerald Bruce Lee
Alison M. McKee
Thomas Braxton McKee
Eric Helms Monday
William Hanes Monroe, Jr.
Dipti Pidikiti-Smith
Dennis J. Quinn
Andrew J. Reinhardt
John R. Rellick
Roscoe C. Roberts
Nathaniel Pendleton Rogers
James W. "Jay" Speer
Martin D. Wegbreit
Michael M. York
Michael L. Zupan
Sponsoring the 2022 Annual Fellows Induction Ceremony is both a way to show those being honored your gratitude and support for their dedication to the legal profession, their communities, and the Commonwealth of Virginia and a way to support our mission to promote, through philanthropy, the Rule of Law, access to justice, and law-related education. View our sponsorship levels here, or connect with Teresa Moore, our Sr. Director of Foundation Operations, at 804-648-0112 or via email at tmoore@virginialawfoundation.org.
Thank you to our generous 2022 Fellows Induction sponsors: