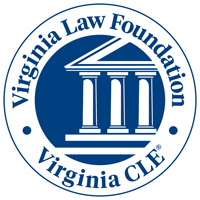 CHARLOTTESVILLE: June 20, 2019
The Virginia Law Foundation is a longtime supporter of Virginia's legal community. As part of this support, we are committed to doing what we can to help ensure lawyer wellness across our Commonwealth. We recognize that law practice can be fraught with countless stresses that, for many, can lead to a variety of personal and practice challenges. Thus, we share in the prevailing view that supporting lawyer wellness is a critical issue both in Virginia and across the country.
In recognition of the changed 2019-20 dues structure to support this effort, as a small but hopefully meaningful gesture of solidarity in this regard, we invite you to take $30 off any Virginia CLE publication through August 31. Not combinable with other discounts. Use coupon code SUPPORT.
Sincerely,
Raymond M. White                                                                                                                                            Executive Director, Virginia Law Foundation